(Vietnam Seafood) - Thong Thuan Company Limited organized 15 years of anniversary of the establishment and the opening of shrimp processing factory No.2 with capacity up to 6.500 tons of finished product/year on July 26th, 2014 at Thanh Hai Industrial Park (Thanh Hai Commune, Phan Rang - Thap Cham City, Ninh Thuan Province).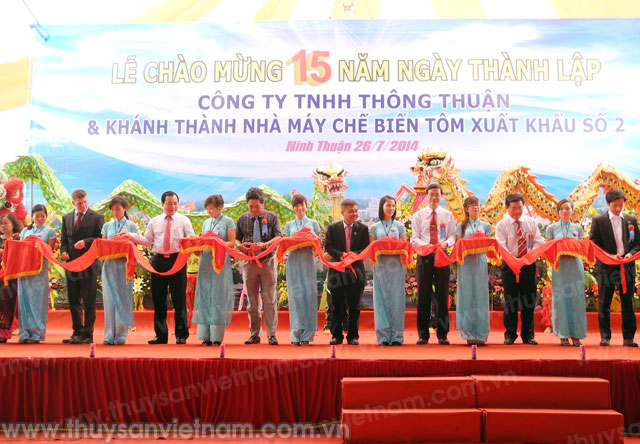 Addressing the ceremony, Mr. Truong Huu Thong, General Director of Thong Thuan Company Limited introduced about foundation process and growth of the company in the last 15 years. Starting from small private enterprise, until now, Thong Thuan has formed and built a closed production system from breeding, commercial shrimp farming and export processing. In addition, the company also has applied the international standards for product certification and traceability in manufacturing…etc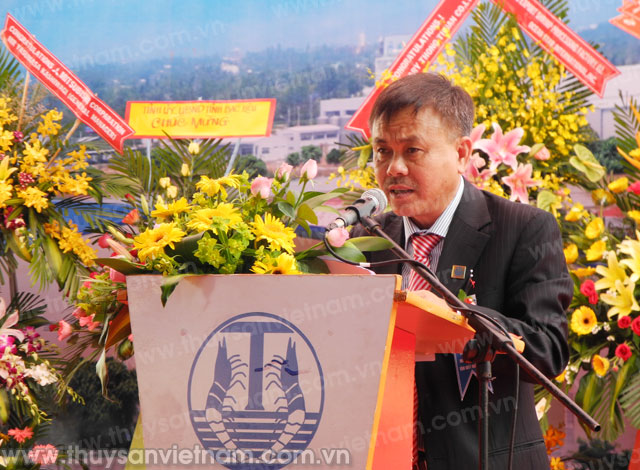 On September 2010, The company invested about USD 13 million (VND 270 billion) to build the shrimp processing factory No.2 with the area of 3.5 hectares, including: ammoniac central cool system with 18 continuous Refrigeration Compressors; 4 IQF high speed freezing systems with a capacity of 750 kg product/hour; 5 Contact Freezer 1,500 kg batch/2 hours; 2 Quickly Freezer with a capacity of 300 kg /hour; 1 Air Blasted Freezer Room with a capacity of 5,000 kg/batch; 1 cold storage - 230C store  3,000 tons products. The factory specializes in the production of shrimp exports, especially value-added products such as sushi shrimp, cook & bil shrimp, Nobashi, ring shrimp, breaded shrimp …
Speaking at the ceremony, Deputy Secretary of the Provincial Party Committee, Chairman of Ninh Thuan Province, Mr. Luu Xuan Vinh emphasized that the construction of Shrimp Processing factory No.2 with a capacity up to 6.500 tons/year of THONG THUAN is compliance with the strategic direction of socio-economic development of the province in 2020. After the factory goes in operation, the leaders of the company, the leadership of factory need to concern in the organization of production to ensure quality and the export volume with the highest performance; strictly implement regulations on waste disposal, sewage, guarantee standards of environmental hygiene; ensure labor safety and fire prevention under the provisions; take care of workers' physical and spiritual life; perform the tax obligation and social responsibility at the same time.
On this occasion, the company has awarded 50 million of VND for the poor patients' sponsorship organization of Ninh Thuan Province and 50 million of VND for the Fund for poor of People' Committee of Thanh Hai Commune.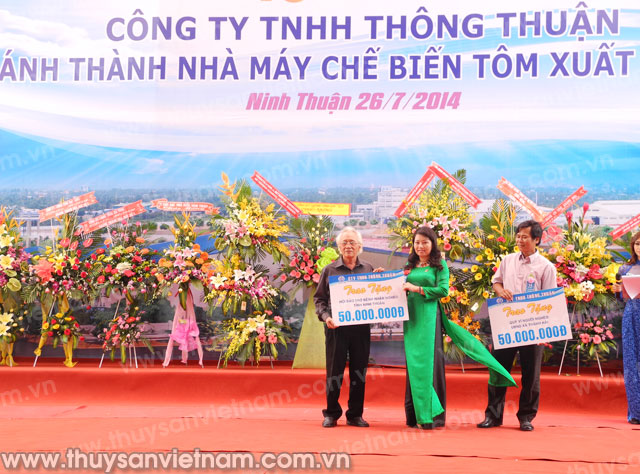 Linh Chi - VietNam Seafood Magazine